Sony targets tripling of operating profits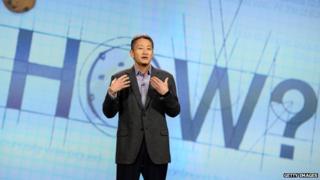 Sony is aiming to nearly triple operating profits between this financial year and next as it completes the reorganisation of its business.
After years of losses, chief executive Kazuo Hirai said Sony had not responded quickly enough to changing markets.
Sony is forecasting an operating profit, which strips out reorganisation costs, of 140bn yen ($1.38bn; £820m) for this financial year.
By the end of the following year it expects operating profits of 400bn yen.
However, on a net income basis, which takes all one-off costs into account, the company expects to still make a loss this financial year.
The Japanese electronics firm is setting aside 137bn yen this year for restructuring its operations, including the disposal of its Vaio PC business.
Credibility 'shot'
Sony shares rose 1.92% after Mr Hirai gave the strategy briefing in Tokyo.
But the investor community is sceptical about Mr Hirai's promises over what many believe are unachievable growth forecasts.
Douglas McIntyre, partner at 24/7 Wall St, said: "If you look at Sony over the last five years, they have said again and again the future was rosy and it turned out it wasn't. Their credibility is shot. "
The reorganisation of the business has involved staff cuts in its sales and headquarters divisions but Mr Hirai said there would be no more major job cuts this year.
Mr Hirai said: "We will finish off the restructuring of the electronics business, and we will not put off the reforms."
Sony's TV business, which has been making losses for 10 years, will be spun off as a separate subsidiary in July, but Mr Hirai said it would not be sold.
Although Sony made its reputation as a consumer electronics business, Mr Hirai emphasised the importance of its non-consumer businesses in music, movie, banking and insurance.
Chief financial officer Kenichiro Yoshida said there would be no change to the structure of Sony's core electronic businesses in games, imaging technology and mobile technology.