Tata Motors reports slight fall in profits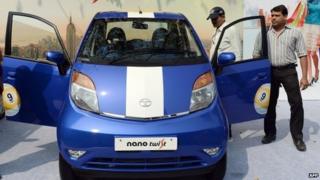 India's biggest carmaker, Tata Motors, reported a slight fall in fourth-quarter net profit due, in part, to adverse currency moves.
However that was offset by strong sales of its luxury Jaguar and Land Rover brands.
Net profit for the January to March quarter was 39.18bn rupees ($665.48m £398m), down 0.7% on the same period a year ago.
Meanwhile, net sales were up 16% to 647.16bn rupees.
The company reported a foreign exchange loss of 3.55bn rupees, due to a revaluation of borrowings, deposits and loans in foreign currencies.
Sales at Jaguar Land Rover were up 8%, with "robust demand" for the Jaguar XJ and XF models, "and buoyed by the introduction of the new F-Type".
In India deliveries of cars, trucks and buses fell by 36% in the quarter,
"Sustained deceleration in the economic growth leading to weak consumer sentiment, high inflation, higher fuel prices, reduced availability of finance, elevated interest rate regime , continues to impact the demand for the entire auto industry," Tata said in its financial report.