Eurozone business activity data adds to pressure on ECB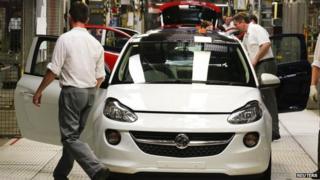 Eurozone business activity grew at a slower pace in May, a survey has indicated, increasing pressure on the European Central Bank (ECB) to take steps to boost growth.
The final Purchasing Managers' Index (PMI) from research firm Markit dipped to 53.5, down from 54.0 in April, and short of an initial 53.9 estimate.
However, it remained above the 50 level indicating expansion.
German businesses saw strong growth, but French business activity fell.
The slower rate of growth came despite firms cutting their prices for the 26th month in a row.
Despite the slower pace of expansion, Markit said its data suggested the eurozone was on track to record economic growth of 0.4% to 0.5% for the second quarter of the year.
If realised this would mark the eurozone's best quarterly performance for three years.
However, Chris Williamson, chief economist at Markit said its survey suggested "an uneven, stuttering and lacklustre recovery".
"The overall rate of growth is just not strong enough to allow firms to push through price hikes. This is perhaps the final nail in the coffin for hopes of a robust recovery without stimulus," he added.
Deflation fears
The Markit survey adds to a slew of recent data suggesting lacklustre growth in the eurozone.
Latest growth data released on Wednesday confirmed that the bloc's economy expanded by just 0.2% in the first three months of the year, and its unemployment rate is currently 11.7%.
The rate of inflation has also fallen in the past year, increasing concerns that the 18-country eurozone could suffer from deflation - a sustained period of falling prices.
This can hit growth as consumers delay purchases in the hope of picking up bargains, and businesses postpone investment.
Analysts say the central bank could cut its deposit rate to below zero and reduce its main borrowing rate to address the problem.
ECB president Mario Draghi hinted last month that the bank's policymakers could act soon to try to counter deflation fears.
At last month's meeting, he said the ECB council was "dissatisfied about the projected path of inflation".
He also said that the ECB was "comfortable with acting next time", raising expectations that the bank will announce a change in policy on Thursday.