Tinder introduces photo sharing in dating app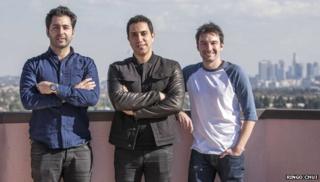 Dating app Tinder has introduced a photo sharing feature called Moments to encourage people to use it for more than just hooking up.
The feature lets users send temporary picture messages which will expire after 24 hours.
It marks an attempt by Tinder to expand beyond its dating base into the more lucrative social messaging sector.
The 18-month-old app has not yet generated any revenue, although monetisation schemes are being planned.
"We realised making a connection is not enough," Tinder's co-founder Sean Rad told the BBC.
"We needed to help our users come up with better ways to get to know their matches."
Mr Rad said that that picture messaging - which has proven incredibly popular, as Tinder's Los Angeles neighbour Snapchat has demonstrated - would allow users to form more "meaningful relationships".
Increasing competition
The move into photo sharing comes as Tinder is facing increasing competition from established dating firms such as OkCupid as well as newer entrants such as Hinge.
It has also suffered from a series of security issues involving fake accounts and spambots.
Nonetheless, its simple interface - which allows users to link their Facebook pictures to their profiles, and then look at other users' pictures - has proved winning. Users swipe left to decline a match, or right to begin messaging someone.
Although the firm would not provide specific user numbers, it did say it had more than 10 million users in the US alone.
Analytics firm Comscore put the number slightly lower, and said that as of April 2014, there were 2.7 million smartphones using the app in the US - a huge increase even from last July.
"The growth chart for Tinder looks pretty incredible," said Andrew Lipsman, vice-president of marketing and insights at Comscore.
Making money
Tinder's biggest investor is the media conglomerate InterActiveCorp (IAC).
Research firm IBIS World has estimated that the dating services industry should bring in $2.2bn (£1.3bn) in revenue in the US this year, with IAC, which also owns traditional dating sites Match.com and OKCupid, holding an estimated 27% share.
New York-based IAC has said that it was "just a matter of time" before Tinder started generating revenue.
"Given the unique nature of Tinder, we think it presents sort of its own unique monetisation opportunities," former chief executive Gregory Blatt briefed analysts in April.
IAC's chairman Barry Diller added that this could involve subscription fees, advertising or charging for add-on services.
Mr Rad, however, declined to provide more details on these plans beyond saying that he was considering charging users to undo a swipe.
He also turned down the opportunity to elaborate on reports that Tinder could be worth several hundred million dollars.
"We don't even think about the valuation," he said.
Expanding brief
Analysts have noted that while Tinder seems to be more popular than its competitors, it has been lumped in the less-lucrative category of dating sites, which tend to have valuations in the low millions.
"Just to give some perspective, the whole mobile dating category had nine million users in [the US] in April," said Mr Lipsman.
"That's almost double what it was last year - but it's still a much smaller than social as a whole.
"WhatsApp alone is bigger than the entire dating category."
That is perhaps one reason why Tinder's founders have insisted that the app is about making "connections". They describe it as being in the social messaging sphere, alongside firms such as WhatsApp and Snapchat, which have significantly higher valuations.
"We envision a world in which everyone is extracting value on Tinder," said Mr Rad, who insisted the app was never meant to be just about dating.
He also emphasised that it was not just used by young twenty-somethings in cities looking for a quick match.
"The oldest user whose identity we've been able to confirm and know of is 65 - and they've already met somebody," he said.
Top five US mobile dating apps as of April 2014
App name
Number of unique visitors
Growth from six months ago
Plenty of Fish sites
2.7 million
13%
Tinder
2.7 million
960%
SKOUT.com
1.7 million
18%
Match.com sites
1.5 million
87%
ZOOSK.com
1.3 million
20%