South Africa platinum strike talks break down again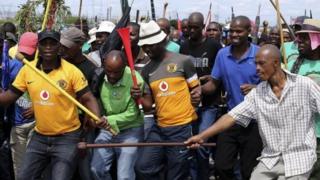 Talks aimed at ending the long-running strike in South Africa's platinum sector have collapsed, after the government pulled out of its role as mediator.
The strike, which is the longest in South Africa's history, has been going on since late January.
The walkout by 80,000 platinum miners played a part in the contraction of the country's economy in the first quarter.
The stoppage has affected 45% of the global supply of platinum.
The metal is used in jewellery and in catalytic converters in cars.
The government warned at the weekend that if there was no agreement by the end of Monday's talks, it would no longer mediate between the two sides.
Mining minister Ngoako Ramatlhodi said on Saturday that the government could "take them to the river but not make them drink".
On Monday, mines ministry spokesman Mahlodi Muofhe said "There is no solution for now."
"The minister has disengaged now from the talks," he added.
'Further options'
The three platinum mining companies involved in the negotiations, Anglo American Platinum, Impala Platinum and Lonmin said in a statement that they were "committed to a negotiated settlement", but "will now review further options."
Those further options would include the closure of shafts, which could lead to thousands of mine workers being laid off.
Joseph Mathunjwa, the leader of the Association of Mineworkers and Construction Union (AMCU) said the collapse of talks means that the strike will continue.
Economic contraction
That could pose more problems for the South African economy, which contracted by 0.6% in the first quarter.
It was the first quarterly contraction since the global economic crisis five years ago and was in large part brought about by the fall in platinum production.
Analysts fear that now that talks have collapsed, a second consecutive quarter of negative growth, a recession, is on the horizon.
So far, the strike has cost the mining companies $2bn (£1.19bn) in lost revenue. Workers have foregone $945m (£563m) in wages and benefits.
AMCU is demanding that workers at the platinum mines have their basic wages more than doubled to $1,200 (£715) a month.
The mines have offered pay increases of up to 10%, which would raise the overall minimum pay package to $1,200 by July 2017. However, this would include cash allowances for necessities such as housing.