Infosys appoints new boss as co-founder Murthy leaves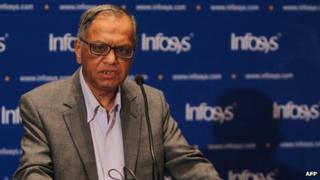 Indian software giant Infosys has appointed Vishal Sikka as its new chief executive and said that co-founder Narayana Murthy will leave the firm.
Mr Murthy came out of retirement last year to take up the role of chairman, for a period of five years, to help revive the firm's flagging fortunes.
But his return was followed by the departure of various senior executives.
Mr Sikka, a former SAP executive board member, will be the first non-founder to lead Infosys.
He will take charge of the company from 1 August.
Growth revival
India's software firms have enjoyed robust growth over past few years, but more recently their growth rates have slowed.
The economic downturn in key markets such as the US and Europe has hurt demand and dented their growth.
For its part, Infosys has also been hurt by growing competition at home and has been losing market share to rivals such as Tata Consultancy Services.
Even though the firm reported a jump in revenue and profit for the financial year ending 31 March, there have been concerns about a slowdown in its pace of growth.
Those fears have been fanned further by the departure of several senior executives in recent months.
However, on Thursday Mr Sikka said there was scope for the company to tap into new areas of growth.
"Computing technology is reshaping every industry across every walk of life," he said.
"We, at Infosys, have a unique opportunity to deliver breakthrough solutions that will bring greater value to our clients, employees, investors and other stakeholders."