Ex-Comet staff win up to £25m compensation pay-out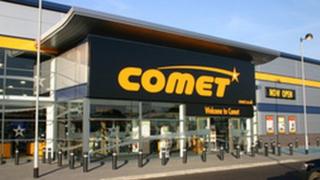 Thousands of ex-Comet staff may be entitled to up to £25m compensation for not being collectively consulted before being made redundant by the company.
A Leeds employment tribunal found that 275 of the employees were entitled to full compensation.
The tribunal has yet to decide how many more of a total of 6,889 ex-employees are due a payout.
Under employment law, the compensation will not be provided by Comet's owners.
Instead, the eventual compensation bill will be footed by the taxpayer.
Leeds-based law firm, The Needle Partnership, which represented the 275 employees, said that Comet had suffered a "corporate raid by private equity investors".
"Comet's demise is one of the biggest High Street casualties of recent years," said Needle Partnership employment partner Victoria Robertson.
"A corporate raid by private equity investors resulted in a 75-year-old British company being destroyed and nearly 7,000 jobs being lost."
The employees will be entitled to up to 90 days' pay in compensation for staff dismissed on or after 17 November 2012.
The tribunal found that Comet "failed to comply with its obligation to consult trade unions and representatives of employees affected by the proposed redundancies".
Comet staff were given no time to elect representatives, Ms Robertson said.
The company, which went into administration in October 2012, initially told people they would not lose their jobs, Ms Robertson said.
Shortly afterwards, some people were immediately made redundant without consultation, she said.
Employment Judge Forrest found that some of the people who were consulted were made redundant immediately afterwards.
"In some instances, for example, Hull and Rickmansworth Head Offices, these redundancies occurred in the afternoon following the consultation meeting in the morning.
"No mention was made at the morning consultation meeting of the redundancies that were to take place that afternoon.
"Indeed, at Hull, one of the managers who had conducted the consultation briefing on behalf of Comet in the morning, was himself selected for redundancy, and made redundant with immediate effect, that afternoon."
The judge found that even basic information about store closures was not provided to employees who were consulted.
Administrators Deloitte were paid £5m in fees, and retail consultants involved in store management and closures were paid £7.2m, Needle Partnership said.
Employees were left to claim the minimum statutory amounts from the government-funded Insolvency Service.
Private equity firm OpCapita bought Comet in 2011 from Kesa Electrical for £1, which also gave OpCapita £46.8m of working capital.
OpCapita does not have any liability for redundancy pay.
"People who worked for 20 to 25 years for the company were paid nothing, and shoved out, and now the taxpayer picks up the bill," Ms Robertson told the BBC. "It's horrific when you think about it."
Deloitte liquidators Neville Kahn and Chris Farrington said the tribunal's decision was "disappointing".
"The Comet management team, administrators from Deloitte and our advisors worked tremendously hard under very challenging circumstances to provide the best possible consultation to the employees," Mr Kahn and Mr Farrington said in a joint statement.
"Comet Group Limited made significant efforts to consult with its nearly 7,000 employees across more than 250 sites during the administration, whilst a purchaser for the business was sought.
"Regrettably, it proved impossible to find a purchaser willing to save the business and all the employees ultimately had to be made redundant."