Construction output boost for economy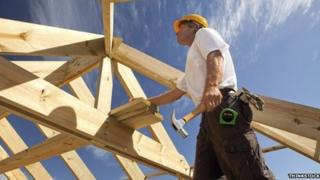 Economic growth for the first three months of the year could be be revised up after official figures showed the construction industry grew by more than expected.
The construction sector grew by 1.5% in the first quarter, more than double the original 0.6% estimated by the Office for National Statistics (ONS).
It means first-quarter economic growth could lift from 0.8% to 0.9%.
That would be the strongest growth since 2010.
The construction sector grew by 1.2% in April compared with the previous month, the ONS added.
But the data also showed new orders fell sharply, dragged down by orders for new public housing which fell by 45.7% - marking the largest fall since records began in 1964.
The ONS said this might be because investment in housing associations was coming from private rather than public sources.
Chris Williamson, chief economist at Markit, said that taken together with healthy latest manufacturing figures, it pointed to further strong economic growth in the second quarter.
Mr Williamson said it was "not just a housing market upturn". While private sector housing activity grew 2.5% in April, there was also a 3.8% upturn in private sector industrial work.
He said signs of a "booming" construction sector added to remarks from Bank of England governor Mark Carney on interest rates to suggest that a hike was more likely by the end of the year.
Howard Archer, chief UK and European economist at IHS Global Insight, said the figures provided "mixed news" but that while construction activity may have slowed from peak levels, its prospects "look generally bright".
The figures come as house building shares plunged on Mr Carney's remarks on interest rates and a strong signal that the Bank of England is likely to take action to cool the housing market later this month.