NatWest to lose 245 branch managers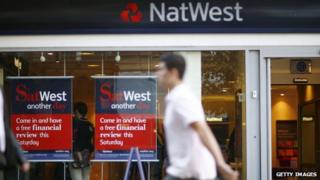 NatWest Bank has announced that it is to lose up to 361 branch managers as part of a programme of cut-backs.
But 116 new - more senior roles - are to be created, leaving a net loss of 245 jobs.
The bank - part of the state-owned Royal Bank of Scotland (RBS) group - expects the new roles to be filled by those whose posts are being closed.
It said it would do its best to keep compulsory redundancies to a minimum.
However it is promising to maintain levels of customer service.
"All of our branches will continue to have a branch manager. This change will not affect how we serve our customers," said a spokesperson for NatWest.
However Unite's national officer Rob MacGregor said the job losses were at odds with RBS' commitment to improve customer service.
"We need a relentless focus on the customer if public trust in the banking sector is to be renewed, not job losses to simply increase operating profits or the continued uncertainty that is plaguing loyal staff who have worked tirelessly to turn the bank around, " he said.
The bank is also creating an extra 45 customer service jobs.
Two other big High Street banks -Lloyds and Barclays- are in the process of cutting over 24,000 jobs between them.
HSBC has cut 40,000 jobs around the world over the last three years.