Further dip in mortgage approvals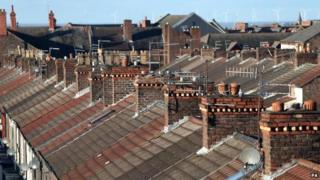 Mortgage approvals dipped to their lowest level since June last year, amid signs that new affordability checks are having an impact on the market.
The Bank of England said that, in May, there were 61,707 home loan approvals for house purchases.
This was down from 62,806 the previous month, and lower than a recent peak of 75,901 in January.
Lenders are now having to conduct stricter affordability checks on potential borrowers.
The updated rules - known as the Mortgage Market Review - have been widely regarded as slowing down the process of mortgage applications, even for those whose requests are successful.
Home sales have been rising, reaching their highest level of the year in May, according to HM Revenue and Customs (HMRC).
But the British Bankers' Association mirrored the findings of the Bank of England. It recently reported that mortgage approvals - an indicator of future sales - had dropped for the fourth month in a row in May.
It suggested that the "heat was coming out of the mortgage market".
On Thursday, the Bank of England's Financial Policy Committee made recommendations to insure the UK housing market does not overheat.
It said that lenders should ensure that mortgage applicants could cope with a three-percentage-point rise in interest rates - slightly tougher than current affordability checks.
From October, there should also be a limit on risky lending, in the form of a 15% cap on the number of mortgages that banks and building societies could give to people who wanted to borrow more than 4.5 times their income, it said.
House price calculator
Use our calculator to see where you can afford to rent or buy