Eurozone unemployment level sees slight fall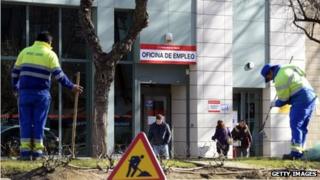 The number of people unemployed in the eurozone dipped slightly in May, but not by enough to dent the unemployment rate.
Some 18.5 million people were out of work in May, 28,000 fewer than in April, but the jobless rate remained at 11.6%, the Eurostat agency said.
April's figure had initially been reported at 11.7%, but was revised down to 11.6%.
Separately, a survey showed eurozone manufacturing growth eased in June.
'Too weak'
The unemployment report highlighted again the divergence between northern and southern Europe. In Germany the unemployment rate was 5.1%, while Italy's was 12.6% and Spain's was 25.1%.
Youth unemployment - which stands at 23.3% - remains a serious problem across the euro area, and is much worse in southern European countries such as Greece and Spain.
"May's unemployment data highlight that the eurozone's economic recovery is still too weak to erode the significant amount of slack in the labour market,'' said Jessica Hinds of Capital Economics in a research note.
The manufacturing survey added to those concerns.
The purchasing managers' index (PMI) for the sector fell to 51.8, down from 52.2 in May and its lowest reading since November. The figure was a notch lower than the preliminary "flash" estimate of 51.9, although it remained above the 50 level which marks the divide between growth and contraction.
The survey is based on responses from 3,000 representative manufacturing firms. It is the first indicator of economic conditions to be published each month and so is considered the most up to date.
"The PMI survey will raise concerns that the eurozone recovery is losing momentum. The overall picture is a reminder of just how fragile the region's recovery is looking," said Chris Williamson chief economist at Markit, the company that publishes the data.
"The slowdown will put pressure on policymakers at the European Central Bank (ECB) to do more to prevent the recovery from stalling," he added.
Last month, the ECB became the first major central bank to introduce negative interest rates, in an effort to get money moving into the stagnant eurozone economy. There is now speculation that it may take further measures.