Mothercare rejects £266m takeover approach from US firm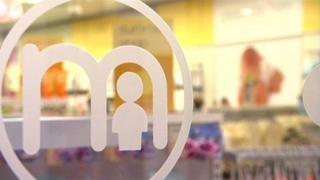 Mothercare has rejected two takeover proposals from US firm Destination Maternity, which value the mother and baby products retailer at £266m.
Destination Maternity said its latest offer was worth 300p per Mothercare share, a 29% premium on the firm's closing price of 232.5p on 1 July.
It made its first approach to Mothercare in May and said it had not ruled out a revised bid.
Mothercare said the bid did not reflect the "inherent value" of the company.
The retailer issued a profit warning in January blaming weak Christmas sales.
The following month chief executive Simon Calver announced his resignation from the retailer.
Former Shop Direct and Next Directory executive Mark Newton-Jones took over as interim chief executive on 17 March.
Last Updated at 21 Mar 2018, 15:39 GMT
*Chart shows local time
price
change
%
16.70 p

+

+1.00

+

+6.37
Mothercare has struggled in recent years in the face of intense competition from both internet rivals and supermarkets.
In the UK, which accounts for about 70% of its sales, it has closed about 80 stores, revamped others and expanded online.
Mothercare currently has around 1,440 stores worldwide. Last year, it said it expected to turnaround its loss-making UK operations by 2015.
But in January this was pushed back to as late as 2017.
'Attractive opportunity'
Under the terms of the deal Mothercare shareholders would be paid 230p per share in cash and receive shares in a new holding company valued at 70p per share.
Shares in Mothercare jumped nearly 14% to 265p following news of the takeover approach.
Ed Krell, chief executive of Destination Maternity, said: "We have long been familiar with Mothercare and hold the company's UK heritage and successful track record of international expansion in the very highest regard.
"We believe the combination would create a highly attractive opportunity to accelerate the growth and development of both businesses and generate substantial value for our respective shareholders.
"Given this, we are seeking to engage with the board of Mothercare on a constructive basis with the goal of completing a recommended transaction."
The deal would see Destination Maternity brands including its 'A Pea In The Pod' and 'Motherhood Maternity', labels sold in Mothercare's UK stores and its international franchise partners' stores.
'Significant concerns'
Destination Maternity would also convert some Mothercare stores in order to create its own retail presence in the UK.
The US firm claims to be the world's largest designer and retailer of maternity clothes. It operates 1,906 retail stores in North America and has a presence in the Middle East, South Korea and Mexico, but as yet no presence in Europe.
Alan Parker, chairman of Mothercare, said the retailer had given both takeover offers "full and thorough consideration" but did not believe they reflected "the inherent value of Mothercare to our shareholders or its prospects for recovery and growth."
He added Mothercare had "significant concerns about the deliverability" of Destination Maternity's proposals.
"Mothercare has a very strong and valuable international business and significant potential for sustained improvement in the UK," Mr Parker said.
Destination Maternity has until the 30 July 2014 to make a formal offer for Mothercare or walk away.