House price fall expected in London, say surveyors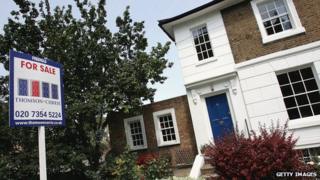 House prices in London are expected to fall over the next three months, a poll of chartered surveyors has indicated.
By a majority of 10%, London surveyors said prices were more likely to fall than rise, the Royal Institution of Chartered Surveyors (Rics) poll found.
It is the first time in more than two years that this particular measure has turned negative.
Rics said stricter rules for borrowers, which began in April, were slowing momentum, "particularly in London".
However, over the next year prices in the capital are still expected to rise.
The Nationwide Building Society reported earlier this month that London house prices had risen by 25.8% over the past year.
Rics said that buyers were also making fewer inquiries about homes in London, in what they describe as an "increased air of caution".
By a majority of 30%, surveyors reported a fall in demand over the past month.
"Buyer enquiries in the capital are now slipping back, which suggests that the very sharp upward move in prices will flatten over the coming months," said Simon Rubinsohn, Rics chief economist.
However, over the UK as a whole, the survey indicated that prices were still rising, with the strongest gains in the South East of England and Northern Ireland.
House price calculator
Use our calculator to see where you can afford to rent or buy
Momentum 'slowing'
Last month, the Bank of England acted to take the heat of the housing market by imposing new conditions on both borrowers and lenders.
From October, borrowers will have to show they can withstand a 3% rise in mortgage rates from their current level.
Lenders will also be restricted in the number of riskier loans they can offer. No more than 15% of their business can be with customers who need to borrow 4.5 times their income.
But RICS said the move was "unlikely on its own to have an immediate influence on the market".
It believes recent talk from the governor of the Bank of England about forthcoming rate rises will be more significant, along with the Mortgage Market Review (MMR), which introduced stricter rules for borrowers in April.
"Rhetoric from key officials at the Bank, including Mark Carney, alongside the consequences of the introduction of the MMR are already slowing momentum particularly in London," said Simon Rubinsohn.
However, the Council of Mortgage Lenders (CML) - which represents both banks and building societies - said the impact of MMR on lending had been "subtle, rather than dramatic".
Separately, Barratt Developments became the latest housebuilder to report bumper trading over the past 12 months.
The UK's biggest housebuilder by volume said its full-year profits were likely to more than double to £390m for the year to 30 June.
It sold 14,838 new homes in the past year, at an average price that was 13% higher than in the previous 12 months.