Lloyds 'misleading' letter to borrowers published by MPs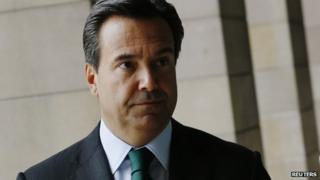 An example of a letter sent out to Lloyds customers by a law firm - which was actually from Lloyds Bank itself - has been published by MPs.
Andrew Tyrie, the chairman of the Treasury Select Committee, said such letters were "calculated to mislead".
The letters were sent to individuals and businesses who owed the bank money between the 1980s and March this year.
Lloyds said the letters were only sent to a small number of customers who had not previously responded to requests.
According to the letterhead, they came from a law firm calling itself Sechiari Clark and Mitchell - later abbreviated to SCM - with an address in Hove in Sussex.
This gave customers the impression that their debts had been passed to a collection agency.
But the bank has now admitted that SCM consisted of a group of solicitors who worked for a firm within Lloyds Bank.
Even though this firm was dissolved in 2011, letters continued to be sent out in its name until March this year.
All use of SCM letters is expected to cease by the end of September, said the bank.
"We believe that views on transparency and clarity have changed," said Antonio Horta-Osorio, the chief executive of Lloyds, referring to the time when SCM was established in the 1980s.
'Threatening'
Mr Horta-Osorio told the Treasury Select Committee that SCM's status as part of the in-house litigation team "was disclosed on correspondence."
A note at the bottom of the letter says "SCM Solicitors is part of the in-house litigation department of Lloyds Banking Group PLC."
It also confirms that SCM is authorised by the Solicitors' Regulation Authority.
The details follow previous revelations about other banks, energy firms and the Student Loans Company using similar techniques.
Five of the UK's big six energy companies have sent out such letters, with the exception of SSE.
George and Nina Perrott from Halesowen in the West Midlands received a final demand for payment from Scottish Power's in-house debt-collection team, Sterling Collections, even though they were never in debt.
"We left our property, paid all the utility bills and then were presented with a bill from Scottish Power for £5,473.60 which was quite a ridiculous amount," says Mrs Perrott.
"We were that upset we came off holiday early to see what was going on," the couple told You and Yours on Radio 4.
The letter from Sterling Collections mentioned in the small print that it is a trading name of Scottish Power but the couple were convinced the matter had been passed to external debt collectors.
Scottish Power has offered compensation and "sincere apologies" to the Perrots for the mistake. It has suspended use of the Sterling Collections name while it carries out a review.
'Unethical practice'
British Gas wrote to customers in debt using the names Debt Recovery Services and Central Recoveries but says it stopped doing so in 2012. EDF says it ceased using the name Knight Debt Recovery in 2009 to allow "complete transparency for customers".
But Npower still sends final demands from Collections Direct. It said the letters are only issued after it has made four attempts to communicate with a customer itself.
E.On has a separate company registered for the purpose: Utility Debt Services. It has also suspended use of the name whilst it conducts a review.
"No-one condones unethical practice but energy suppliers owe it to the honest majority to use all legitimate means to recover debts from people who can pay but won't," a spokesman for Energy UK told You and Yours.
The energy regulator Ofgem has asked all domestic energy suppliers for information about their use of what it calls "alternative branding". It will then consider if any action is necessary.