Child car seat installers guilty of failings, says Which?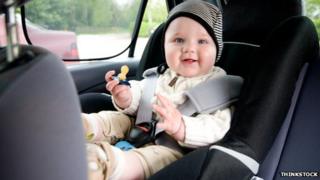 Major retailers who offer to install child car seats free of charge are guilty of "serious failings", according to a Which? investigation.
They visited 42 stores belonging to seven retailers, and found that only four fitted the seats correctly.
They claimed that the worst offenders were Mamas and Papas, and Babies 'R' Us, followed by Kiddicare.
The companies told Which? that they were now investigating the problem, and vowed to improve their service.
Several stores fitted the seats so badly that a child could be in "serious danger" in a crash, said Which?
Independent stores scored better than the big retailers, according to the investigation, but still made some mistakes.
'Unacceptable'
Among the errors identified were:
13 stores failed to ask essential questions about a child's age or weight before the fittings
One retailer folded a support leg under the seat, making it unstable
One fitter failed to attach the seat securely, because he did not know how to use the seat belt
Fitters did not spend enough time explaining how to use the seats
Some fitters blamed the products for being broken, when they were not
A lack of training amongst fitters
"It's unacceptable that retailers are providing such shockingly poor fitting services, which could potentially be putting children at risk," said Richard Headland, the editor of Which?
All the stores visited had room to improve, said Which?
Babies 'R' Us and Mamas and Papas failed 11 out of the 12 fittings, while Kiddicare failed nine, including "serious" errors.
Halfords managed two successful fittings, Mothercare three, and John Lewis - the best of the major retailers- managed four correct fittings.
Corrective action
Babies 'R' Us told Which? the results were disappointing, and said it would strengthen training.
Mamas and Papas said it was "extremely committed" to car seat safety, and was investigating the research results, which followed a visit to six of their stores in April.
"We would urge Which? to return soon and undertake research across more of our stores. We are confident they would discover a much better picture than that published today," a spokesperson said.
Kiddicare said it was investigating the issue, and would take corrective action where required.
The Which? researchers posed as parents of an 11 month-old baby.
They then asked each of them to fit two different kinds of seat - an Isofix and one using a seat belt to secure it.
Which? has published a safety checklist to help parents fit car seats safely.