Royal Mail shares hit as parcel revenue falls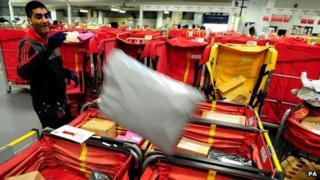 Royal Mail shares have fallen after the company said that price changes and competition from rivals had affected its parcels business.
Shares closed down 3.4% at 450 pence, below the level they hit on the first day of trading as a public company.
Parcels revenue fell 1% in the three months to 29 June from a year earlier, and Royal Mail said parcels revenue for the year could miss expectations.
But it said it was likely to meet forecasts for its overall performance.
Royal Mail's share price has received a great deal of scrutiny since the organisation was privatised in October last year.
Its shares were priced at 330p for the stock market flotation and closed at the end of the first day of trading at 455p. They hit 615p in January.
Last Updated at 22 Nov 2017, 16:21 GMT
*Chart shows local time
price
change
%
411.40 p

+

+12.10

+

+3.03
Earlier this month a group of MPs voiced concerns that the taxpayer may have lost out by around £1bn after Royal Mail shares were "undervalued".
'Honeymoon' over
Royal Mail said on Tuesday that it expected revenues from its letters business and "cost controls" to offset the lower parcels revenue.
However, Richard Hunter, head of equities at Hargreaves Lansdown Stockbrokers, said that the "honeymoon period" for Royal Mail's privatisation appeared to be over.
"The weakness in the parcels performance is a concern, and may prompt questions as to whether this is transient, or whether the change is structural," he said.
Although the decline in the parcels revenue was offset by an improvement in the Royal Mail's letters business, letters are not a long-term area of growth for the firm, Mr Hunter said.
In addition, cost cutting measures "may help in the shorter term," but are also a "temporary relief", he said.
Reorganisation
The firm's parcels business is seen as a key growth area by the company.
Royal Mail said it was facing "increasing challenges" in the UK parcels market, including competition from carriers "aggressively reducing prices".
Changes to Amazon's minimum order level for free delivery, together with the expansion of the online shopping giant's delivery network, also had an impact on revenues, Royal Mail said.
The firm's parcels export business was hit by competition and a strong pound, Royal Mail added.
Despite lower parcels revenues, Royal Mail said it expected to meet its yearly targets.
It said that although letter volumes decreased by 3% in the latest quarter, its letters revenue was up by 3% due to increases in stamp prices and letters "traffic" during the elections.
The firm also expects to make £25m in savings through a "management reorganisation programme" announced in March.
Royal Mail added that it had submitted evidence to regulator Ofcom setting out its concerns about the "threat to the universal postal service" caused by "unfettered cherry-picking of high density urban areas" for direct delivery competition.