Harley-Davidson shares hit by shipment warning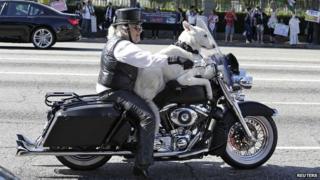 Shares in Harley-Davidson have fallen more than 6% after the motorbike maker warned it would ship fewer bikes this year than previously forecast.
The company also said it sold fewer bikes between April and June than expected due both to poor weather and weak sales of its Sportster model.
Higher margins and revenue did, however, drive profits higher.
Net profits for the quarter were $354m (£208m), up 30% on a year ago. Revenue was up about 10% at $2bn.
Last Updated at 21 Sep 2017, 18:30 GMT
*Chart shows local time
price
change
%
47.98

-

-0.37

-

-0.77
Weaker growth
"US retail Harley-Davidson sales fell short of our expectations in the second quarter," said the firm's chief executive Keith Wandell.
"We are reducing our full-year shipment plan and now expect shipment growth of approximately 3.5% to 5.5% over last year."
The company had previously predicted growth of between 7% to 9%.
But Mr Wendell said underlying demand for Harleys remained "intact", while there had been "great interest" in the new Street 750 and 500 models.
In terms of numbers of bikes, sales in the second quarter were flat. In the US, the company sold 90,218 bikes compared with 90,193 a year ago.
Outside the US, Harley sold 31,993 bikes against 31,952 a year earlier.
Analysts said the weaker-than-expected sales were due to delays in new models hitting the showrooms.