Glaxo shares slide as profits and sales fall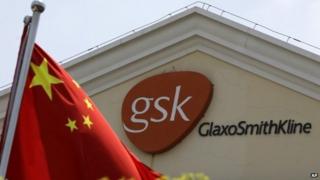 Shares in drug maker GlaxoSmithKline (GSK) are down 6% after its profits were hit by a fall in sales and the strong pound.
The company reported a 23% fall in pre-tax profits to £986m from £1.29bn.
In China, where the group's business has been rocked by allegations of bribery, sales were down 20%.
Chief executive Sir Andrew Witty said in a conference call that he had "zero tolerance" of the practices GSK is being accused of.
The group has seen a 10% fall in its drug and vaccine sales in the US, largely due to intense competition from generic drugs.
Sales at its consumer healthcare business, which sells brands such as Sensodyne, Panadol and Aquafresh, fell 4% due to problems in supply chains.
The strong pound has also reduced the impact of overseas profits.
It now expected earnings this year to be " broadly similar to 2013" rather than up 4-8% as it had previously forecast.
Active investigations
Chinese authorities are investigating whether GSK paid doctors to encourage them to use its drugs.
Last Updated at 22 Feb 2018, 16:30 GMT
*Chart shows local time
price
change
%
1303.00 p

-

-21.60

-

-1.63
Earlier this month, GSK admitted to further bribery problems in its China business as long ago as 2001.
On a conference call to discuss the results, Sir Andrew said: "I remain very concerned about allegations concerning our China business. The situation is complicated and difficult and while the investigation is active, there is little I can add," he said.
Thirty people were sacked over allegations that doctors and health officials were given payments to push GSK products.
GSK is using proceeds from the sale of some of its older drugs to fund new products such as replacements for its inhaled lung drug Advair, which lost almost a fifth of its sales to generic competition in the first six months of the year.
Sir Andrew said: "We are confident we can deliver a regular flow of new product introductions over the next few years and this will provide a clear basis for growth in pharmaceuticals" .