South Korea unveils $40bn stimulus to help spur growth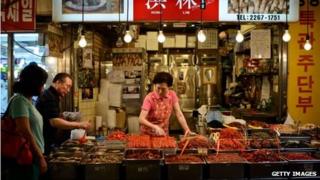 South Korea has unveiled a $40bn (£23bn) stimulus package to help boost the economy.
The funds will be used to offer financial support to small and medium-sized companies, create jobs and stimulate the property market.
The stimulus was unveiled the same day data showed a decline in economic activity in South Korea.
Gross domestic product (GDP) grew 3.6% from a year earlier in the second quarter.
That is a slowdown from 3.9% growth in the first quarter.
Asia's fourth-largest economy relies heavily on exports, which has been dragged down by a slower-than-expected recovery in global demand.
This is the second round of stimulus from the South Korean government. In April, it pushed through a $15bn economic stimulus plan, also to help boost growth.
Rajiv Biswas, Asia-Pacific chief economist from consultancy IHS says "the additional fiscal stimulus package should ensure that Korean GDP growth momentum recovers in the second half of 2014".
"The stimulus package should provide a 0.3% boost to GDP growth for 2014," he added.
In addition to the GDP data and the stimulus measures, South Korea's finance ministry this morning again lowered the country's growth forecast to 3.7% from 3.9% for this year - the second revision in recent weeks.
Ferry disaster
Earlier this month, South Korea's central bank lowered its forecast for economic growth this year to 3.8% from 4%, citing a ferry sinking earlier in the year which dented sentiment and consumption at home.
In April - the Sewol ferry, carrying 476 people sank off the south coast of South Korea. The tragedy claimed the lives of more than 300 people, most of them school children.
Mr Biswas also says the the ferry disaster in April "triggered a period of deep national mourning and resulted in the cancellation of many festivals as well as tourism travel."
President Park Geun-hye's popularity has fallen sharply since the April disaster. Ms Park has already apologised for the disaster and promised reforms, but anger at alleged mismanagement by the rescue services and the ferry company has seen her approval ratings drop below 50%.