Banks may have to set aside more to cover bad loans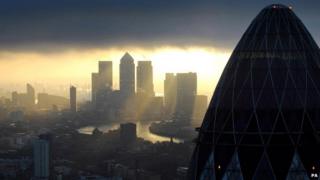 Changes to international accounting standards will mean banks have to record potential losses from their loan portfolios sooner, rather than waiting for borrowers to default.
The new standards have been published today by the International Accounting Standards Board (IASB).
The move could stop financial statements presenting an inaccurate, rosy image of a lender's finances.
It could also mean banks set aside more funds against potential losses.
'Much needed'
Hans Hoogervorst, the IASB's chairman said the changes were "much needed improvements."
"The new standard will enhance investor confidence in banks' balance sheets and the financial system as a whole," Mr Hoogervorst said.
Under the current regime, banks can only record a loss in their accounts once it has been incurred -- often waiting until a borrower has actually defaulted on a loan.
That means that even if banks know that a borrower is in trouble and might miss a payment, lenders can not log this in their accounts.
As a result, financial statements for some banks over-stated profits and led to some lenders not putting aside high enough provisions to guard against expected losses.
Several countries criticised the standards and a series of bodies, including the Group of 20 advanced economies, recommended moving to a forward-looking model.
The IASB, an international standards-setter, today proposed a range of measures, partly to address this problem.
From January 2018, banks will need to look ahead and consider losses that could arise from potential defaults over the next twelve months.
If there is any change to a bank's expected losses, the lender should update its accounts at the next reporting date.
These decisions should be based on "reasonable and supportable" information that covers past, current and future eventualities, the IASB said.
Impact of rules
The standard could result in financial companies setting aside much larger provisions to protect against these potential losses.
Some estimates suggest that loan-loss provisions could rise by up to 50%.
Banks are not the only firms subject to the new standard. All companies holding financial assets, such as loans and bonds, will need to consider the measures.
In the European Union, all publicly listed companies must adhere to the IASB's standards.
However, banks and insurance companies are likely to feel most of the impact given the large loan portfolios on their balance sheets.
'Long overdue'
Dr Nigel Sleigh-Johnson, Head of the Financial Reporting Faculty at the ICAEW, a professional accountancy association, also welcomed today's development but warned that it would not guarantee a solution.
"The new loan loss requirements will provide earlier indications of potential losses on loans made by banks and other financial institutions, and that is a major and long over-due step forward," Mr Sleigh-Johnson said.
"However, those who think that provisions made in the run-up to the global financial crisis were 'too little, too late' should not see the change as a panacea. Even an expected loss model won't result in provisions being made for unexpected losses," he said.
Companies in over 100 countries, including the EU, adhere to the IASB's standards.
Differing standards
However, the US has its own standards, set by the Financial Accounting Standards Board.
US officials are still developing their standard for measuring expected losses.
That is likely to require companies to consider losses over the lifetime of a loan, which is different from the IASB's requirement to consider losses arising from potential defaults over the next 12 months.
Despite efforts to align the two sets of standards, the IASB and the FASB were unable to do so.
Differences between the two regimes could make it harder for investors to compare financial statements.