Pocket money squeezed despite recovery, suggests Halifax survey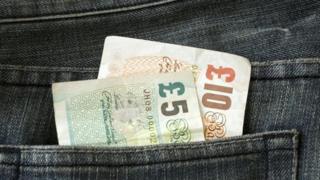 The economic recovery in the UK has not been felt by youngsters who have seen their pocket money fall in the last year, a survey suggests.
Average weekly pocket money for eight to 15-year-olds fell from £6.50 in 2013 to £6.35 this year, the Halifax said.
The proportion of children receiving a weekly allowance also fell to 82% from 84%.
The relatively small survey suggested that a third of youngsters were given pocket money by grandparents.
Findings also suggested that 90% of 13-year-olds received pocket money - the highest level of any age group.
Youngsters in London received the most on average (£8.26 a week), with children in East Anglia getting the least (£5.15 a week).
Pocket money had risen for six years in a row, despite relatively stagnant wage growth among parents, until the latest fall. It remains well below the peak of £8.37 in 2005.
"Pocket money is a great tool to help young people learn the value of money, and start the habits of saving and money management early on," said Richard Fearon, of financial product provider, the Halifax, which is part of Lloyds Banking Group.