China manufacturing growth speeds up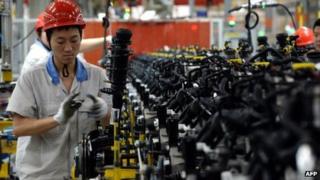 China's factory activity grew at its fastest pace in more than two years in July, indicating that the country's economy may be stabilising.
The official purchasing managers index (PMI) rose to 51.7, from 51 in June, the National Bureau of Statistics said.
The PMI is a key gauge of the sector's health and a reading above 50 indicates expansion.
The data comes as China has taken a series of steps in recent months to help boost its economic growth.
The official PMI - which measures activity in bigger factories - follows another PMI survey by HSBC last month, which gave a preliminary reading of 52 for July - an 18-month high.
The HSBC survey measures activity in relatively smaller factories in China.
Stabilising growth?
The official PMI number is the latest in a series of positive economic data in the world's second-largest economy.
Last month, China reported that its economy expanded by 7.5%, in the April-to-June quarter, from a year ago, and up from 7.4% growth in the previous three months.
Other data released in recent weeks has shown a jump in factory output, fixed asset investment and retail sales.
The slew of encouraging data has followed a series of measures in recent months by policymakers to help boost China's growth.
The steps include plans to cut taxes on small firms and speed up the construction of railway lines across the country.
China's central bank has also made more cash available for banks engaged in lending to agriculture-related businesses and small companies.
It has done so by lowering the reserve requirement ratio (RRR) - the amount of cash banks needs to keep in reserve.
The central bank has said it will also encourage banks to lend more to exporters to boost shipments.