Hong Kong's Cathay Pacific sees big profit jump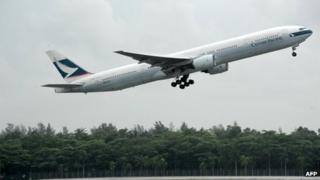 Hong Kong airline Cathay Pacific has reported a jump in first half earnings as a new strategy involving more flights to US destinations paid off.
For the six months to June, net profit rose to 347m Hong Kong dollars ($45m; £27m).
That is nearly 15 times more than the 24m Hong Kong dollars the airline earned in the same period last year.
However Cathay's chairman warned that the environment for both the group and the industry "remains challenging".
In a filing to the Hong Kong Stock Exchange, Chairman John Slosar said: "We face significant competition in our passenger business. This makes it difficult to maintain yields. The air cargo business remains problematic because of excess capacity. Intense competition similarly puts pressure on yield."
To stave off intense competition in the region, and compete for travellers, Cathay had embarked on various discount campaigns, which led to strong travel demand from Hong Kong.
Ups and downs
The airline saw the biggest jump in the North American market, where passenger traffic grew by 17%. The airline had introduced new flights to Newark in March. And it also increased the frequency of flights to Los Angeles and Chicago.
Cathay also pointed out that political unrest affected demand for travel to certain Southeast Asian countries. Its passenger traffic for that region dropped by 0.3% in the first half period.
Thailand's capital Bangkok was mired in political protests late last year, and that led to the imposition of military rule in May. Cathay said it had reduced flights to Bangkok as a result.
Cathay said its fuel costs increased by 5% compared to the same period last year. Fuel accounts for nearly 40% of the airline's operating cost.
"We continue to increase fuel efficiency by modernising our fleet. We are also focused on controlling costs," the company said.
The airline added five new aircraft to its fleet in the first half of the year, two from US-based Boeing and three from European aircraft maker Airbus.