Carillion gives up after third Balfour bid is rejected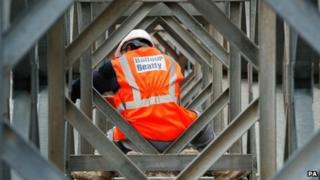 Construction firm Carillion has admitted defeat in its £2bn pursuit of rival Balfour Beatty after its third takeover offer was rejected.
Carillion said it was "no longer pursuing" a deal, after Balfour refused to extend the deadline for a firm offer to be agreed beyond 5pm on Thursday.
It must now wait six months before it can re-start negotiations.
Balfour shares fell nearly 8% to 235p following the news it had rejected Carillion's latest offer.
The improved offer for Balfour on Tuesday represented a 36% premium to the recent average price of Balfour shares.
Carillion had said it wanted a deal which had the full backing and cooperation of Balfour's management, arguing that there was "powerful strategic logic" in a merger.
But Balfour said Carillion's offer failed to address its two key concerns.
Balfour wants to sell its US unit, which Carillion opposed. It also said it was unconvinced a merger with Carillion would deliver the costs savings its rival suggests.
Carillion's improved offer would have given Balfour shareholders control of 58.268% of the combined company, rather than 56.5% under the previous offer.
Last Updated at 17 Nov 2017, 16:23 GMT
*Chart shows local time
price
change
%
264.80 p

-

-0.20

-

-0.08
No extension
But Balfour said the revised offer was only a small improvement of £55m on Carillion's second offer, which was rejected on 11 August.
Carillion's latest offer continued to assert that it would halt the planned sale of Balfour's US business, Parsons Brinckerhoff, which has become a key block to any deal.
Balfour has previously said it remains committed to the sale of the business and the return of up to £200m of capital to shareholders.
Last week, Balfour disputed Carillion's claim that a merger would provide a £1.5bn windfall as a result of savings and cut the cost base of the combined group by at least £175m a year by the end of 2016.