Water stress may curtail fracking, says WRI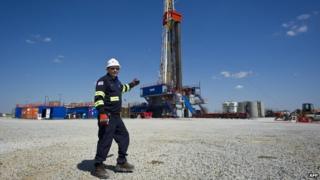 Water shortages could hinder fracking for shale oil and gas in many parts of the world, the World Resources Institute (WRI) has said.
In the first report of its kind, the WRI found that 38% of the world's shale resources were in arid areas or in those with severe water stress.
Accessing fresh water was likely to present "serious challenges", it said.
Until now, concerns about fracking and water have focused on contamination of local supplies.
The process of fracking - or hydraulic fracturing - involves pumping water, sand and chemicals at high pressure into shale rock formations to release the gas or oil held within.
It is highly water intensive. The WRI report raises questions about whether there are enough freshwater supplies to support fracking in some countries.
"Lack of water availability could curtail shale development in many places around the world," the report says.
"As countries explore their shale exploration, limited availability of fresh water could become a stumbling block."
High stress
Fracking has taken off in the US, where gas prices have tumbled as a direct result of shale gas production. Many other countries are looking to replicate this success, not only to reduce energy prices, but to rely less on imported fossil fuels.
But the WRI has found that 38% of shale resources "are in areas that are either arid or under high to extremely high levels of water stress; 19% are in areas of high or extremely high seasonal variability; and 15% are in locations exposed to high or extremely high drought severity".
It says that eight of the top 20 countries with the largest shale resources "face arid conditions or high to extremely high baseline water stress where the shale resources are located".
These countries are China, Algeria, Mexico, South Africa, Libya, Pakistan, Egypt and India.
"Water risk is one of the most important but under-appreciated challenges when it comes to shale gas development," said Andrew Steer, head of the WRI.
"This analysis should serve as a wake-up call for countries seeking to develop shale gas. Energy development and responsible water management must go hand in hand."
The WRI makes four recommendations to help protect water supplies - conducting water risk assessments; increasing transparency and engagement with local regulators and communities; ensuring adequate water governance; and minimising fresh water use.
'Less challenging'
The issue of water stress is unlikely to be as serious in the UK as it is in some other countries.
"I think from the UK perspective, the impact on water resources may be less of a challenge than perhaps first thought, provided that it is planned for properly," Dr Jim Marshall, policy adviser to Water UK, told the BBC.
"The amount of water needed per fracture should be available, especially so with the uptake of water reuse and recycling options, and even waterless fracturing."
Much would depend on the speed with which the industry develops in the UK, however. Dr Marshall said the simultaneous development of lots of sites "may cause local problems".
He also highlighted the fact there could be problems with treating waste water, which is likely to contain radioactive material.
"It is unlikely that the majority of municipal treatment works will be able to treat waste water from [fracking]," he said.
Water use is just one concern that critics of fracking level at the industry. They also argue that the process can lead to methane leakage, and that although gas is cleaner than coal, it is still a fossil fuel that emits CO2 when burnt.
The industry says that water contamination and methane leakage can be avoided, and that abundant shale reserves should be exploited to provide a domestically-generated energy source.