Halliburton to pay $1.1bn to settle oil spill claims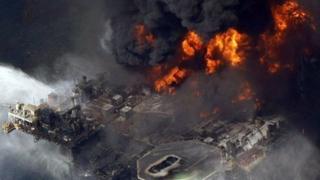 US oilfield services firm Halliburton says it has reached a $1.1bn (£660m) settlement to meet the majority of claims against it for its role in the 2010 Gulf of Mexico oil spill.
The settlement, which includes legal fees, is still subject to approval from a US court.
The firm said the money would be paid into a trust until the deal is finalised.
Halliburton was a contractor for BP, which operated the rig that exploded.
The explosion on the Deepwater Horizon rig killed 11 people and caused the worst offshore oil spill in US history.
Halliburton said it had already set aside $1.3bn for costs related to the incident.
Other firms involved have already finalised settlement agreements.
Rig owner Transocean, which employed nine of the workers killed, agreed to pay $1.4bn in settlement last year, and BP has paid an estimated $28bn so far.