Go-Ahead reports 44% jump in profits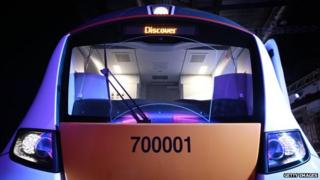 Bus and rail company Go-Ahead has seen a 44.5% jump in yearly profits to £91.2m on a record number of passengers.
The jump in profits includes a £12.1m gain after the group closed its defined benefit pension scheme.
The year saw the Thameslink rail network franchise awarded to Govia Thameslink, a joint venture majority-owned by Go-Ahead.
The new franchise will run for seven years from this September.
"This was a particularly busy and exciting year for Go-Ahead in which we made excellent progress towards our strategic objectives," said group chief executive David Brown.
Go-Ahead said it would raise its dividend by 4.3% to 84.5p due to its confidence that it would meet its financial targets.
The company's shares have risen around 30% since the beginning of 2014.
It said its results were "significantly ahead" of its initial expectations for the year.
Winning the Thameslink franchise this year was a "key achievement", the firm added.
The Thameslink franchise has attracted protests from rail campaigners over concerns about customer service and safety.