Barratt Developments profits double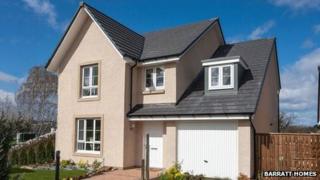 Housebuilder Barratt Developments has reported a 103% surge in annual profits on the back of "sustained strength" in in the property market.
It said pre-tax profit for the year to June was £390.6m from £192m last year.
However, the company said the housing market was returning to "more normal seasonal trends" following "exceptionally high levels of activity" after the launch of Help to Buy.
Average selling prices rose 12.9% in the year to £241,600, Barratt said.
Total completions rose 8.6% to 14,838 compared with 13,663 a year earlier.
Last Updated at 24 Nov 2017, 16:21 GMT
*Chart shows local time
price
change
%
600.50 p

-

-20.50

-

-3.30
Mark Clare, chief executive of Barratt Developments, said the significant improvement in the company's performance was the result of its £3.8bn investment in land since the middle of 2009, as well as the recovery in the housing market.
Barratt shares opened up 1.53% to 372.70p on the London Stock Exchange.
Barratt is the latest housebuilder to report a significant increase in profits.
In June, Berkeley Group reported a 40% jump in annual profits following what it called a surge in economic confidence in the last year.
It said pre-tax profits for the year to 30 April were £380m, compared with £270.7m a year earlier.
It added there was capacity to increase house building with the continued support of the Help to Buy scheme.
The government launched the Help to Buy scheme in April 2013, initially to help people buy newly-built properties.
It was extend in October last year with a second scheme to provide an equity loan of up to 15% of a property's value - up to a limit of £90,000 - to help people onto, or up, the housing ladder.
The most recent Halifax house price index for August suggested property values have started to ease.
The interactive content on this page requires JavaScript
It showed property values across the UK in the three months to the end of August were 9.7% higher than the same period a year earlier. But this was down from 10.2% in July.
The average house price is now £186,270, according to the lender, the highest level since April 2008.
From July to August, prices rose by just 0.1%. Monthly figures are notoriously volatile, and do not provide an accurate guide to market trends.
Nevertheless that compares with a monthly jump of 1.2% between June and July.