Kingfisher boss Cheshire to step down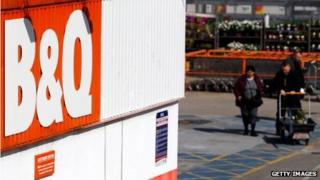 Home improvements retailer Kingfisher has said its chief executive Ian Cheshire is to step down after nearly seven years in charge of the company.
He will be succeeded by the boss of French unit Castorama, Veronique Laury.
Ms Laury will become the fifth female chief executive on the FTSE 100 index.
The succession plan came as Kingfisher reported a dip in first-half profit, as a boost from good weather in the first quarter was offset by a tougher second quarter.
The company, which owns B&Q and Screwfix in the UK, reported pre-tax profits for the six months to 2 August of £375m compared with £401m for the same period a year ago.
Last Updated at 20 Nov 2017, 16:21 GMT
*Chart shows local time
price
change
%
304.40 p

-

-2.90

-

-0.94
Ms Laury joined Kingfisher 11 years ago and is currently a member of the group executive committee. She is expected to take over from Mr Cheshire before January.
"This decision, reached during the regular succession discussions between the board and (Mr Cheshire) recognises that the next phase of Kingfisher's evolution requires a significant leadership commitment and continuity," the company said.
Kingfisher expects the next five years will be busy as it develops its IT systems and expands Screwfix and Brico Dépôt into new markets.
The company said fine weather helped sales at stores open over a year rise 6.1% but added it experienced a sharp slowdown in its second quarter.
Shares in Kingfisher rose 2.5% to 315.00p on the London Stock Exchange in early trading.
The firm warned in July that its markets in the second quarter had been slower than anticipated, particularly in France and Poland.
"Whilst our French business saw an improvement in August we remain cautious about the economic backdrop," said Mr Cheshire.
First half sales across the business rose 0.9 % to £5.77bn and were up 1.8% on a like-for-like basis.