Thorntons' profits jump 60% on cost cutting programme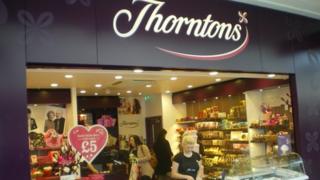 Chocolate maker Thorntons has reported a 60% rise in annual pre-tax profit as a result of cost-cutting measures.
It said pre-tax profits for the year to 28 June rose to £7.5m, compared with £4.7m a year earlier.
The firm has undergone a three-year cost-cutting programme, closing 39 stores last year.
Thorntons said that sales at stores which had been open for at least a year rose by 1.1%, compared with a decline of 0.8% a year earlier.
The Derbyshire-based chocolatier also reported a small rise in revenue to £224.4m for the year.
Analysts had forecast pre-tax profits of £7.35m on revenues of £222.69m.
Jonathan Hart, Thorntons' chief executive, said he was pleased with the results which, he said, indicated "continued strong recovery in our profitability" adding they were "a testament to the strategy we put in place just over three years ago".
"The challenging environment and subdued consumer sentiment make our progress all the more notable," he said.
Mr Hart said the business had also successfully completed a refinancing deal, which would allow it to support growth, adding that he anticipated further modest growth in the UK business in the first half of the new financial year.
Adjusted operating margins improved to 4.5% in the year from 3.4% last year, mainly as a result of store closures.
Thorntons' share price was 0.95% lower to 104p by mid-morning on the London Stock Exchange.