China promises much but it won't be easy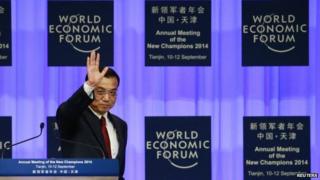 In China, anything is possible, but everything is difficult. That is how one participant at Summer Davos, the annual meeting of the World Economic Forum in China, described doing business in China to me.
It's not the first time that I have heard that phrase, but after listening to the speech of the Chinese Premier Li Keqiang and chairing a few sessions, I was duly reminded.
The Chinese premier told the plethora of business leaders that China wasn't targeting foreign companies in its anti-corruption probe.
Just 10% of the investigations involved multinational companies. He also emphasised that the vast domestic market will be more open to competition, a concern of private firms — foreign and Chinese.
Premier Li says that market competition is the way to increase innovation, which many agree is key to sustaining China's growth.
But, some businesses that I spoke to were sceptical. One executive told me that every foreign company that comes into China already knows that their industry will be dominated by a state-owned enterprise.
China is already the world's biggest market in certain sectors, so it can't be neglected but foreign companies will proceed with caution.
Competition
It was a similar theme when I chaired a panel on climate change. China's top climate negotiator, the vice chairman of the National Development and Reform Commission Xie Zhenhua, said that China may be part of the post-Kyoto agreement that the global community is trying to conclude by next year in Paris.
The rest of the panel was largely of the same view. But, when I polled the audience, there was a much higher degree of scepticism.
Again, it is possible, but it won't be easy.
The same could be said for China's growth ambitions. The Chinese Premier stressed that if growth was slightly higher or lower than the government's target growth rate of 7.5%, then that was within the "proper range."
After all, the International Monetary Fund estimates that economic growth will come in slightly lower than that at 7.4% this year. Their deputy managing director Min Zhu agrees that small deviations aren't a problem.
The bigger challenge is if the slowdown isn't well managed or manageable since risks abound in the property sector, with local government debt, among others.
So, it's possible that China manages a smooth transition to a slower but better quality growth rate, it opens up its markets to greater competition, and joins in with the global community on the next climate change agreement.
But, it will be difficult.
For more on corporate movers and shakers, watch Talking Business with Linda Yueh. Broadcast times are found at: Talking Business with Linda Yueh.