'Customer' threatens Npower with Bailiffs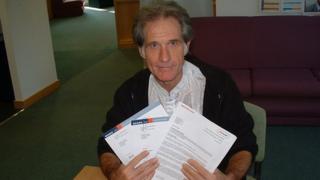 A man who was never a customer of the energy giant Npower but was threatened with a bill of £5,600, but has now won his legal action after a two year battle.
Terry Small of Inverness told Radio 4's You & Yours he had sent 30 letters over a two-year period to prove he had never bought power from the company.
Npower was ordered to pay him £1,200 after the court found in his favour.
He employed bailiffs to make the company pay up. Npower have apologised.
It says confusion was caused by a delay in closing his account.
Mr Small's battle with big energy started in December 2012 when he took the government's advice to switch his energy provider.
He investigated signing up with Npower, was given a changeover date, but changed his mind within 24 hours.
He said: "There then came to my attention a deal of bad publicity concerning Npower's treatment of their customers, so I decided not to switch and telephoned to inform them."
The company began to correspond with Mr Small on the basis he was a customer, and despite writing 30 letters over two years trying to convince them otherwise, the firm insisted he owed them £5,600.
Call handlers promised the contact would cease, but the firm continued to bill him and even sent representatives to read his meter.
His eventual tactic was to begin invoicing the firm for the letters he sent to them. When he got no response he took them to the small claims court which found in his favour.
After receiving no payment he employed a Scottish bailiff to recover the £1,200 but received no response.
Mr Small said: "Each time I do this, I pay for the service, but there is no guarantee of success in getting monies from Npower."
Npower apologised and said: "We haven't received a copy of the court order, however, we have called the court to get the correct information and we'll be sending a cheque out to him.
"We are really concerned to hear about Mr Small's query. Unfortunately there was a delay in closing the account so this meant he continued to receive collection letters - this has now been resolved."