The UK's quality of living capital is revealed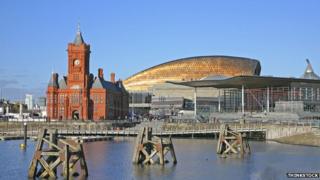 The Welsh city of Cardiff has been named the best place to live in the UK, according to a range of economic and social indicators.
Researchers at comparison website MoneySuperMarket examined house prices, rental costs, salaries, unemployment rates, and life satisfaction.
Cardiff came top of 12 cities, having scored well on all factors apart from salaries.
It had the lowest cost of living, at £359 per week.
It also had one of the lowest unemployment rates, at 8.1%.
Residents have also been feeling significantly better off over the last year, with disposable incomes growing by 3.7%, said the comparison website.
Cardiff replaces Bristol, which came top of the table last year.
Living costs in Bristol rose to £430 a week, while growth in disposable incomes fell from 3.3% in 2013 to 2.8% in 2014.
Belfast and Bradford both saw big improvements, rising to second and third in the table.
UK Cities : Quality of Living Index
2014 Rank
2013 Rank
City
1.
3.
Cardiff
2.
8.
Belfast
3.
12.
Bradford
4.
7.
London
5.
1.
Bristol
6.
5.
Leeds
7.
2.
Edinburgh
8.
6.
Manchester
9.
11.
Sheffield
10.
9.
Glasgow
11.
4.
Liverpool
12.
10.
Birmingham
source: MoneySuperMarket