Phones 4U bondholder write-down offer 'not feasible' says PwC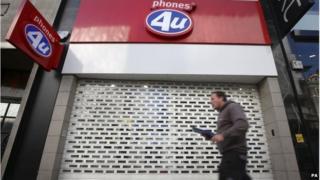 A group of bondholders in the collapsed retail chain, Phones 4U, have failed in an 11th-hour plan to rescue the company.
Holders of bonds issued by the stricken retailer had said they would cut back what they were owed, so the firm could try to cut a deal with networks.
But administrators PwC said that there was little chance the deal would succeed.
The focus was on a sale of all or parts of Phones 4U, PwC said.
Rob Hunt at PwC said there was "no realistic prospect for a debt-for-equity swap".
Mr Hunt added that selling off the business to network operators was more feasible.
Rescue plan
Phones 4U went into administration this week, putting 5,596 jobs at risk.
On Thursday, a group of creditors who hold £430m of debt issued by Phones 4U offered to swap some of what they were owed for a stake in the company.
"The bondholders would take a significant write-down on their debt which would make the business commercially viable and lay foundations for the 5,596 jobs to be saved," said US law firm Brown Rudnick, which is acting for the bondholders.
The aim would have been to persuade mobile phone operators to resume their contracts with Phones 4U after restructuring the business.
Phones 4U, which was one of the biggest mobile phone retailers in the UK, went into administration on Monday after a deal with network operator EE collapsed.
EE joined Vodafone and O2 in not renewing contracts with the company.
Accountancy firm PwC was appointed to see if any of the 560 stores and 160 concessions could be reopened or sold.
EE, Vodafone and Dixons Carphone are in Phones 4U acquisition discussions.
Dixons Carphone has offered to hire the 800 people who work in Phones 4U concessions at its Currys and PC World stores.
Blame game
The administration has led to a number of claims and counter-claims about who is responsible for Phones 4U's predicament.
Private equity firm BC Partners, which now owns the firm, has said the terms of deals with network operators were so tough that it was not possible to keep the firm going.
However, the networks have suggested the company was so indebted that it was not able to make money without unrealistic payments from operators. BC Partners has been criticised for taking £200m out of the business last year to cover its initial investment.
John Caudwell, the founder of Phones 4U, blamed the demise of his former company on the "ruthless actions" of "predatory" mobile phone networks, which the networks denied.
Mr Caudwell told the BBC's Today programme on Tuesday that the collapse of the deals was an "unprecedented assassination".