RBS chairman Sir Philip Hampton to join GlaxoSmithKline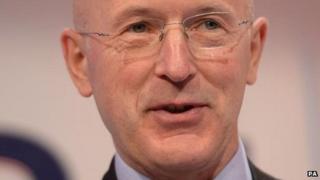 Royal Bank of Scotland (RBS) chairman Sir Philip Hampton is to leave the bank to become GlaxoSmithKline's chairman.
Sir Philip will take up the post at the UK pharmaceutical company in September next year.
He joins at a tough time for GlaxoSmithKline, which was fined $490m (£297m) in China last week over bribery charges.
Sir Philip took the helm of RBS, which is 80% owned by the taxpayer, at the height of the financial crisis.
In a statement, he said: "It has been a privilege to serve as chairman of RBS since 2009.
"I am looking forward to working with my colleagues in the months ahead as we work to implement the bank's strategy and continue to improve the support we provide to our customers."
Last week, GSK was found guilty by a Chinese court of paying doctors and hospitals to promote its products.
The court gave GSK's former head of Chinese operations, Mark Reilly, a suspended three-year prison sentence and he is set to be deported.
Four other GSK staff were also given suspended sentences.
Before RBS, Sir Philip had been finance director at Lloyds TSB, BT, British Gas and British Steel.
He is also a former chairman of UK Financial Investments, which manages the UK Government's shareholdings in banks.