Air France resumes talks with pilots' union SNPL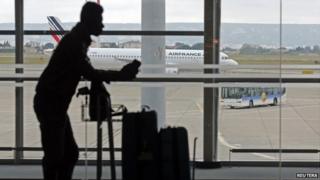 Air France and pilots' union SNPL have resumed talks in the hope of resolving the 11-day strike that is costing the airline up to 15m euros (£11.8m) a day.
The two parties are discussing a counter-offer made by the union following the airline's proposal to scrap plans to expand its Transavia low-cost airline in Europe.
These plans sparked concerns among pilots over pay and job security.
The resulting strike is affecting almost half of all Air France flights.
On Wednesday evening, Air France offered to scrap part of its plans to shift some of its European operations to Transavia, having earlier offered to put the plans on ice, and to "guarantee that there will be no relocation" of jobs.
It said the proposal would help "find an immediate outcome to this destructive conflict".
However, pilots are holding out for a better offer and say they will continue to strike until they get it.