Getting the best deal on a new mobile phone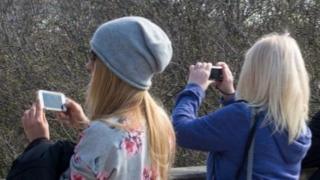 There are 83 million mobile phone contracts in the UK. In other words, there are a lot more mobiles than there are people.
And with two-thirds of UK residents now using a smartphone, what is the smartest way to get the best deal on a new mobile?
In just a few years, mobile phone makers have become household names, from Apple to Google, Samsung to Sony, and HTC to Motorola.
They all launch their latest models with huge fanfare and glitzy advertising. But Gareth Beavis, from website TechRadar, who reviews phones and tablets for a living, says it is best for phone owners to avoid the hype if they want to save money.
Mobile phone manufacturers have slipped into a cycle of launching new phones in February or March and September, in time for the Christmas rush. He suggests that avoiding the purchase of a new phone when it is launched is sensible financially.
But he believes there is now very little to choose between the most popular makes, so he says picking a mobile really is about the best deal rather than brand loyalty.
Adding it up
The experts' top tip for buying a mobile is to consider going "SIM-only". This just means buying the phone upfront and paying for a bundle of calls, texts and data on top of that each month.
This means an initial outlay of cash, but over the long-run it can save money and offer greater flexibility.
Mr Beavis advises doing the sums carefully. A two-year contract on the new Apple iPhone 6 with a major provider costs about £1,170, which is broken down into monthly instalments. On a SIM-only deal, shoppers can pay for the new iPhone upfront for £539 and, over the two years, save £40.
But not every manufacturer is the same. Choose a Samsung Galaxy S5 or HTC One M8, and there are better deals with a contract than without.
Belinda Parmar, from creative agency Lady Geek, says it is not just contract versus SIM-only that should be considered. Customers should look at the network they pick, she says. Although the UK is dominated by four big providers, there are others.
"There are some smaller networks like Giffgaff, where you get the same service. It is an O2 subsidiary, and you can get a better deal," she says.
Many customers routinely continue paying the same monthly tariff even after their contract has ended and they have paid off their phone. Again, that is a good time to drop down to a cheaper SIM-only deal, she says.
Text costs
Some 16% of households in the UK now only use a mobile phone rather than having a fixed landline, according to Ofcom research. Experts say these mobile users should pay close attention to their wi-fi.
Wi-fi can be used for free calls via web apps such as Skype, Facetime and Tango, but it is also useful for text messages. Users send an average of 170 text messages each per month in the UK and they usually cost money, according to Ms Parmer.
She suggests switching to an instant messenger service to start contacting friends and family for free.
It is also worth watching out for new group deals, she says. This is a fairly recent innovation in the UK that offers families one package with multiple phones.
Ms Parmer says that, as a mother, she loves the idea of having one bill and one provider. This is value for money and gives each member of the family their own bundle of texts, calls and data, she says.
A snazzy smartphone is also worth looking after. There is now a lucrative second-hand market online, and through major retailers, for old smartphones. Mr Beavis suggests the best time to sell an old handset is just before the launch of a new model.