Unite members to join NHS strike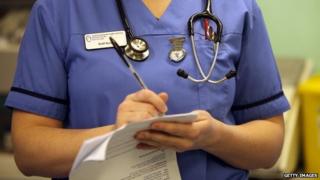 Unite members working in the health service in England will join a four-hour strike on 13 October, the union has said.
Members will also be working to rule and adhering to a 37.5 hour week between 13 October and 9 November.
Earlier this week, the Unison union said its members would go on strike on the 13th between 07.00 and 11.00.
Unions are angry with the government over its 1% pay rise offer for NHS health workers.
This does not apply to those who get automatic, on-the-job pay increases, which are given to about half of staff and are worth 3% a year on average.
The decision by ministers went against the recommendation of the independent pay review board, which called for an across-the-board rise.
Unite members in Northern Ireland will be striking between 11.00 and 15.00 on 13 October.