Next warns of lower sales growth due to warm weather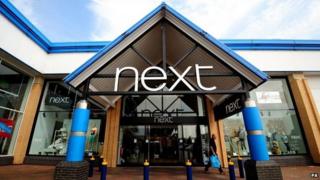 Fashion chain Next says the recent warm weather has hit sales and has warned it might have to cut its profit forecast if the warm spell continues.
Its shares fell 3.8% after it blamed September's "unseasonably warm weather" for cutting third quarter sales growth to date to 6% from expectations of 10%.
Next says its full-year profits could be hit if the warmer weather continued to the end of October.
The warm weather has led shoppers to delay purchases of winter clothing.
Last Updated at 26 Sep 2017, 08:13 GMT
*Chart shows local time
price
change
%
5170.00 p

-

-25.00

-

-0.48
"Cooler weather in August resulted in several very strong weeks. However, warmer weather in the more important month of September has had the reverse effect," Next said.
"At present our profit forecast for the full year remains within our previous guidance given on 29 July and reiterated on 11 September, and our experience suggests that some lost sales are regained when the weather turns.
"However, if this unusually warm weather continues for the full duration of October then we are likely to lower our full year profit guidance range of £775m to £815m."
The retailer said it would issue another management statement on 29 October.
On 19 September, department store group John Lewis reported a drop in weekly sales, citing the milder weather as a factor behind falling clothes sales.
Next's statement hit shares in several rival retailers. Marks and Spencer shares fell 3.1% and Debenhams dropped 3%.