RBS says 'bad loan' losses will be 'significantly' lower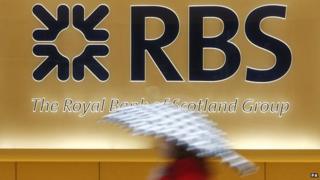 Royal Bank of Scotland says an improving economy means losses from bad loans should be "significantly lower" than the £1bn it had expected for 2014.
The improvement means the bank can free up £800m from the pot of money it has set aside to cover the losses, it said.
Of this, £500m will come from its "bad bank", which holds the assets it no longer wants, and £300m will come from its Irish Ulster Bank division.
State-owned RBS said the money would be released in its third quarter.
Last Updated at 22 Mar 2018, 16:30 GMT
*Chart shows local time
price
change
%
258.30 p

-

-3.60

-

-1.37
It share price rose 3.8% in early morning trading following the positive statement.
However, in its trading update, RBS also said revenues in its corporate and institutional banking unit had been weaker than expected over the period.
Balancing the books
RBS, which is 80%-owned by the UK taxpayer, has been trying to reduce its debt mountain and strengthen its balance sheet after the government bail-out in 2008.
This has entailed offloading non-core businesses, such as Angel Trains, a stake in Bank of China, and most recently, a stake in its US banking subsidiary Citizen Financial Group.
The 25% sale of Citizens should raise about £1.8bn for RBS when the shares begin trading on the New York Stock Exchange on Wednesday, and the bank plans to sell its entire stake by 2016.
RBS set up its Capital Resolution division - the formal name for the "bad bank" - this year to sell off or run down about £29bn of assets it no longer wants.
In July, RBS's shares jumped after it said operating pre-tax profits had doubled £2.6bn for the first half of the year - a much stronger performance than analysts had been expecting.
RBS will release its third quarter results on 31 October.