World Bank finance chief gives up bonus to please staff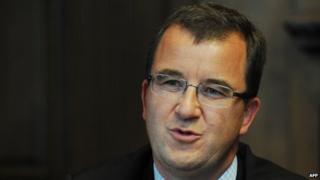 The World Bank chief financial officer is giving up part of his bonus after an uproar over cost-cutting measures at the lender.
Bertrand Badre will decline the remainder of his $94,000 (£58,000) annual bonus, the bank said.
The move was an attempt to appease staff, who were angry that he got a bonus while the bank was cutting jobs.
Mr Badre had pushed for much of the cutbacks at the organisation, which is being reorganised.
World Bank president Jim Yong Kim reportedly made the announcement to applause during a staff meeting on Tuesday.
"Of course staff unease is natural and understandable in any large organisation undergoing such a large-scale realignment," World Bank spokesman David Theis told Reuters.
"We believe we will come out of this process as a stronger, more unified organisation, better positioned to achieve our mission."
The poverty-fighting lender plans to cut $400m (£250m) from its budget by 2017 to allocate more funds for development projects.
According to the bank's annual report, Mr Badre was one of four executives who received a bonus; his annual salary is $397,000 (£250,000).