House price growth will moderate, says the Halifax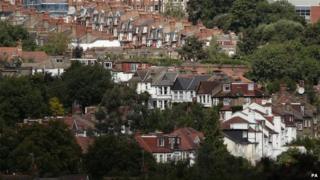 Annual house price growth in the UK will moderate during the rest of the year, having peaked at about 10%, according to the Halifax.
The lender, part of Lloyds Banking Group, said that supply and demand of homes would be "better balanced" this year and early in 2015.
Its latest survey showed that average house prices rose by 9.6% in the year to the end of September.
They rose by 0.6% compared with August, with the average home costing £187,188.
This was slightly at odds with the latest survey from the Nationwide Building Society, which reported that prices had fallen by 0.2% from August to September.
Both lenders base their findings on their own mortgage data.
The interactive content on this page requires JavaScript
Slowdown?
Various publications have suggested that activity in the housing market eased slightly during the summer.
On Tuesday, the Bank of England's Credit Conditions Survey suggested that the supply and demand for mortgages fell in the three months to early September.
Martin Ellis, housing economist at the Halifax, said that annual house price growth had slowed in recent months.
Earnings rising slower than the cost of living, the possibility of an interest rate rise and prices rising at a rapid rate in some parts of the UK had put a brake on demand from potential buyers, he said.
House price calculator
Use our calculator to see where you can afford to rent or buy