Mobile firm Three fined over complaints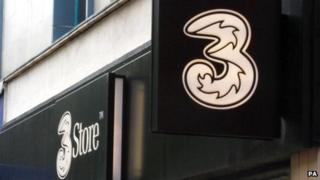 Mobile operator Three has been fined £250,000 by regulator Ofcom by failing to handle customer complaints in a "fair and timely manner".
Some complaints cases were closed before the company had established that they were fully resolved, Ofcom said.
Complaints were not logged properly and customers were not told about the option of taking their case to an ombudsman.
The company said the issues related to its complaints process in early 2013.
"Since then we have worked closely and openly with Ofcom to address these as part of the broader effort to improve complaint resolution, contacting all the customers that might have been impacted," a spokesman said.
He added that Three had become the mobile operator with the lowest level of complaints in the UK in 2014.
Ofcom said the company had now updated its complaints handling system.
Claudio Pollack, from Ofcom, said: "When things go wrong, customers are not only entitled to complain to their provider, but must have confidence that their complaint will be dealt with fairly. That's why we impose strict rules on providers on how they must handle complaints.
"We treat any failure to follow these rules very seriously. The fine imposed on Three takes account of the shortcomings in its complaints handling, but reflects that the harm to consumers in this case was limited."
The fine will be paid to the Treasury.
It is not the only industry to receive criticism over complaints handling. In August, energy regulator Ofgem wrote to the bosses of energy suppliers telling them to improve their complaints handling process.