US stocks tumble as growth worries rattle investors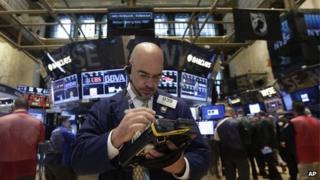 Last Updated at 23 Feb 2018, 20:58 GMT
*Chart shows local time
value
change
%
25309.99

+

+347.51

+

+1.39

Top winner and loser

47.73

+

+

14.49

-

-
value
change
%
7337.39

+

+127.31

+

+1.77

2747.30

+

+43.34

+

+1.60
After rising strongly on Wednesday, US shares fell sharply on Thursday. The oil price was also sharply lower.
The Dow Jones index dropped 334 points or 2%, following a 275-point rise the day before, and significant falls on Tuesday.
The renewed volatility is being blamed on concerns that global growth, especially in Asia and Europe, is faltering.
Brent Crude oil fell below $90 a barrel for the first time since 2012.
Weaker growth would reduce demand for oil, whilst oil supplies remain steady. Energy companies shares were particularly hard hit within the broader falling market.
Weak data from Germany, and predictions earlier in the week from the IMF that global growth would be weaker than expected, have undermined confidence.
"Europe is struggling. Asia is struggling. Japan is struggling. The United States is the best house on the block at the moment," said Jurrien Timmer at Fidelity Investments.
The Dow Jones ended the day at 16,659.25 after its biggest point loss in one day this year.
The S&P 500 index also fell 40.68 points to 1,928.21 while the Nasdaq plunged 90.26 points to 4,378.34.