Burberry's revenues rise despite 'difficult' environment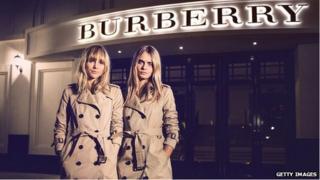 Burberry, has reported a 7% rise in revenue for the first half of the year despite what it described as a "difficult external environment".
The UK luxury fashion brand said total revenues were £1.1bn for the six months to 30 September, with sales in its retail division up 8%.
It credited a re-launch of the heritage trench coat for helping to drive sales.
However, it warned it had seen "some softening" in sales growth from Chinese consumers in the second quarter.
Last Updated at 23 Mar 2018, 16:30 GMT
*Chart shows local time
price
change
%
1653.00 p

-

-3.00

-

-0.18
It said this softening applied to Chinese consumers both at home and when travelling.
Despite this, Burberry said it had seen "double-digit" sales growth in both the Asia Pacific region and Americas in the first half.
However, it warned "a more cautious approach" from its wholesale customers selling to European consumers and in the Asian travel retail markets meant that wholesale revenues were expected to be lower in the six months to 31 March.
Burberry said that the impact of unfavourable exchange rates had recently reduced, but said this benefit would be "partly offset" by the difficult environment.
The firm warned this would put "slight downward pressure" on its retail and wholesale margins as it continued to invest in "key initiatives" to drive long-term profit growth.
However, it said if exchange rates remained at current levels, the impact on retail and wholesale full year profit would be "material".
"While mindful of the more difficult external environment, we have never been better prepared internally for the all-important festive periods," said chief executive Christopher Bailey.
Burberry shares fell 4.3% following the update.
Hargreaves Lansdown Stockbrokers head of equities Richard Hunter said the "marginally cautious outlook" had been "pounced upon by an unforgiving market".
"Burberry is not immune from the currently difficult economic environment. Pressure on margins will also come from further investments in product initiatives and even though the foreign exchange situation has improved, the potential remains for a material impact on the bottom line," he added.
Mulberry warning
There was more downbeat news from the luxury goods sector from Mulberry, with the upmarket handbag maker issuing its third profit warning of the year.
Mulberry shares sank 14% after it told investors full-year profits would be "significantly" below expectations, and that revenues for the six months to 30 September were down 17% to £64.7m.
Mulberry said it had been expecting a "challenging year", but actual trading conditions had been tougher than forecast.