Australia's Medibank Private plans share sale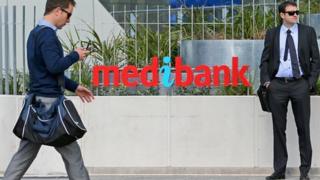 Australia's government says it hopes to raise up to $5.5bn Australian dollars ($4.8bn; £3bn) by selling shares in health insurer Medibank Private.
The government says it intends to sell its entire shareholding in the firm, which is Australia's largest private health insurer.
Shares would be priced at between A$1.55 and A$2 per share.
The sale could be the largest share offer in a state firm since the government sold Telstra in 1997.
The country's minister for finance, Mathias Cormann, said in a statement that retail investors would be able to apply for Medibank Private shares from 28 October.
Why sell?
The Australian government has been making an effort to reduce its public debt by cutting spending and selling its assets.
"Basically, the sale is part of an effort to reduce public debt and it fits in with the government's philosophy favouring private ownership of businesses," Shane Oliver, head of investment strategy and chief economist with AMP Capital, told the BBC.
More than 750,000 Australians have already pre-registered to receive the share offer prospectus, with "strong support from Medibank and AHM policy holders", said Mr Cormann.
Medibank's AHM arm was developed after the firm purchased a smaller insurer called Australian Health Management.
The firm's first day of trading on the Australian stock market is expected to be 25 November.
Medibank Private was set up in 1975 by Australia's Health Insurance Commission, now known as Medicare Australia.