Pound falls after Bank of England minutes released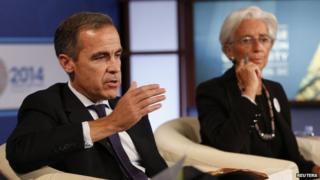 The pound has fallen after the majority of the Bank of England's Monetary Policy Committee (MPC) remained against raising interest rates, according to minutes from the October meeting.
The minutes said that for most members, there was "insufficient evidence" of inflationary pressure to raise rates.
MPC members voted 7-2 to keep interest rates at a record low of 0.5%.
The pound fell about half a cent against the dollar after the minutes were released.
At one point it fell as low as $1.6016, before recovering slightly to $1.6067.
Last Updated at 26 Feb 2018, 04:26 GMT
*Chart shows local time
£1 buys
change
%
1.3994

+

+0.00

+

+0.17
Ian McCafferty and Martin Weale again voted to raise rates to 0.75%, the third month in a row they have done so.
"Given the deterioration we have seen in economic conditions, it is perhaps surprising they didn't cross the fence and join the majority voting to hold rates at 0.5%," said Ben Brettell, senior economist at Hargreaves Lansdown.
"I can't see the logic in voting for higher rates at present. I expect them [interest rates] to remain on hold until mid-2015 at the very earliest, and possibly not rise until much later in the year," he added.
Members of the MPC would have seen the latest UK inflation data, which showed that in September, inflation fell to a five-year low of 1.2%.
That rate - as measured by the Consumer Prices Index - is the lowest since September 2009, when it was 1.1%.
Interest rates have been unchanged since March 2009.
Gloomy outlook
Last week, the chief economist at the Bank of England, Andrew Haldane, said interest rates should remain low to avoid long-term economic stagnation.
In a speech he was downbeat over prospects for the UK economy because of weaker global growth, low wage growth and financial and political risks.
"Put in rather plainer English, I am gloomier," Mr Haldane told local business leaders in Kenilworth, Warwickshire.
"This implies interest rates could remain lower for longer, certainly than I had expected three months ago."
In a research note David Tinsley, an economist at UBS, said that Mr Haldane was a bit more pessimistic than other members of the MPC.
"Overall, the minutes shift the recent MPC discussion a little, in highlighting the downside risks on activity, and the downside news on inflation.
"They do not go quite as far as Andy Haldane (Bank Chief Economist) went in the week in calling the outlook 'gloomier'," Mr Tinsley said.
UBS does not expect an interest rate rise until August next year.