UK housing market is cooling, says BBA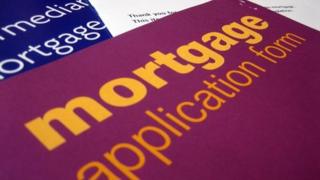 Mortgage activity dropped in September compared with a year ago signalling a UK housing market that is "continuing to cool", banks have said.
The number of mortgages approved for house purchases was down 10% compared with a year ago, the British Bankers' Association (BBA) said.
Approvals had been relatively high at the start of the year but have slowed since June.
This may slow the pace of house price rises in the coming months.
The approvals figures show when mortgages have been granted, which comes before the final stages of the house-buying process.
There were 39,271 approvals for house purchases in September, the BBA said.
'Plateau'
New affordability checks, demanded by the regulator, slowed the total of mortgage approvals temporarily in the early summer, the BBA said. Lenders now scrutinise regular income and outgoings including childcare and household bills.
More recent figures suggested that the recovery in the housing market, driven primarily by the South East of England, had started to cool.
There were fears of a property bubble although approvals are still half the level seen in 2006 when the UK housing market was particularly active.
"A year ago there were many of us who were concerned by the heady pace of property price rises," said Richard Woolhouse, BBA chief economist.
"These figures suggest we are now experiencing a steadier housing market and that's no bad thing."
The number of homeowners remortgaging was also down, having fallen by 24% in September compared with the same month a year earlier.
Recent data and comments from the Council of Mortgage Lenders (CML) and the Royal Institution of Chartered Surveyors (Rics) suggested that the housing market had reached "a plateau".
The figures come on the same day as estate agents Foxtons reported a "sharp and recent slowing of volumes" in London property sales.
Its profit warning led to a sharp fall in its share price in early trading on Thursday.
Meanwhile, figures from the National House Building Council show that builders are preparing to build more homes than at any stage since the financial crisis.
However, house building is still at a fraction of the level seen in the UK in the 1970s.