Standalone TSB picks up customers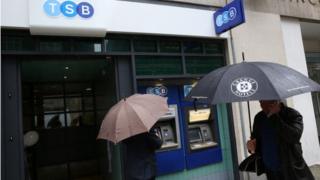 Newly independent TSB says it is attracting more new customers than it had expected.
The bank, which was spun off as a separate business by Lloyds Banking Group in June, said nearly one in 10 new bank account customers in the UK were choosing TSB.
TSB's third-quarter profit before tax fell sharply compared with a year ago, after operating expenses rose.
Profits for July to September were 14% lower than a year earlier at £33.1m.
But revenue for the quarter swelled 18% to £199m, while TSB highlighted a rise of 29% in profits in the third quarter of this year compared with the second quarter.
"While we have always been clear that we are on a five-year journey to grow TSB and its returns, it's great to see people right across Britain continuing to vote with their feet for TSB's local banking model," said chief executive Paul Pester.
"Nearly one in 10 of all customers who opened new bank accounts or switched during the last quarter chose TSB - this is well ahead of our long-term target and is testament to the great service our TSB partners continue to deliver."
No legacy
Lloyds first merged with TSB in 1995.
When Lloyds received a government funded bailout during the financial crisis, European regulators said it would have to reduce its size to comply with state aid rules.
Originally Lloyds planned to sell 600 branches to the Co-op Bank. After that deal fell through, Lloyds decided instead to resurrect the TSB brand as a standalone business and sell it to investors.
Lloyds floated a 38.5% stake in TSB on the London Stock Exchange in June.
TSB's appeal to investors was put down to it not carrying a complicated legacy such as PPI or international investment banking operations and being a relatively straightforward domestic lender.
High Street
The bank previously said its strategy would be to act as "a High Street bank, not a Wall Street bank".
TSB promised its customers they would be able to telephone their local branches directly.
Most other banks connect their customers to a central number for all inquiries.
However, the bank - the UK's seventh biggest lender - still make decisions on loan applications centrally, rather than locally.