France in new pledge to cut budget deficit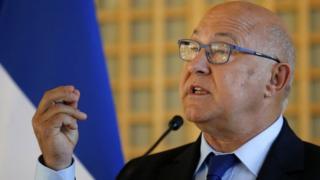 France's finance minister says the country plans to cut its budget deficit by €3.6-3.7bn (£2.84bn, $4.6bn) next year in a bid to meet European Union rules.
The minister, Michel Sapin, made the promise in a letter to the European Commission.
The plan is an update on the country's original draft budget for 2015.
The Commission has until Wednesday to decide whether or not to accept the proposal.
Mr Sapin said he had found the money because of lower-than-expected costs on interest payments, as well as lower contributions to the EU's budget.
He said France had also gained income through higher tax income, which it pulled in by being tougher on fraud and ending some company tax allowances.
The country has missed a number of budget deficit targets and has struggled with high unemployment and low growth.
Earlier this month, the French government said it would reduce its budget deficit to below the EU threshold of 3% of GDP by 2017, two years later than promised.
That forecast indicated the public deficit would fall to 4.3% next year, but to 2.8% by 2017.
Mr Sapin said at the time that growth would remain weak, projecting that the economy would only grow very slightly this year.
France plans to cut public spending by €50bn ($63bn; £39bn) by 2017, the year in which the country's next presidential election will be held.
In August, three French ministers resigned amid a bitter row over economic policy.